Uppgifter

Publicerad 23 november 2008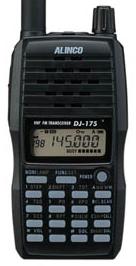 Alinco har annonserat DJ-175.
En 145 MHz FM handportabel station som har en alfanumerisk display för enklare minneshantering. Utformad med användarvänlig design. Sänder med 5 W uteffekt med standardbatteriet. Stationen har de flesta selektivtoner för repeateraccess som standard, 39-toner CTCSS, 104 DCS, 1750 och DTMF encoder. Gratis programvara för programmering finns på Alincos hemsida.
Länkar:
DJ-175 Broschyr
(275 kB pdf)
Alinco's svenska sida (Sanco)
Alinco's internationella hemsida

DJ-175 Free Utility Software Download
(Ver.0.42.00 beta released Nov. 2008)
Please be advised that this is a freeware (copy-right reserved by Alinco, Inc). Although we have tested this software on our Windows 2000/XP/VISTA environments and experienced no serious accidents during the operation, we are not responsible of any eventual damage caused to your radio and/or PC system by using this utility. Sorry, please do not contact us for how to use this utility; up-dates will be posted here as soon as it will be released. It is recommended that you remove the older version before you install the latest one in case of update. In case you find a bug, please report to
Den här e-postadressen skyddas mot spambots. Du måste tillåta JavaScript för att se den.
specifying your OS.
This software enables you to program frequencies, set parameters and save it in your PC for any version of DJ-175 (T/E/TFH).
DJ-175 utility download
(4.9MB zip)
Please remember that you must have Alinco's optional ERW-4C/ERW-7 computer interface cable in order to connect the unit to your PC. A simple connection cable may not work properly. In case you install ERW-7's driver to your VISTA PC, you must be an administrator.
The interface between the cable and radio is simple, just plug in the cable into the MIC port of DJ-175 before using the software and turn on the radio. After the operation, turn the unit off then remove the cable. Entering to the CLONE mode is not mandatory for this software.