Uppgifter

Publicerad 03 januari 2009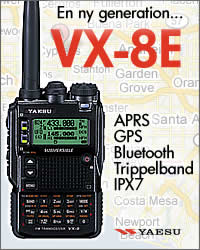 Den nya generationens handapparat som har Trippelband, APRS, GPS, Bletooth m.m. som Yaesu annonserade i maj (
se tidigare artikel
) finns efter diverse förseningar inom kort för leverans.
Mobinet beräknar med att starta leveranserna under januari 2009. Det svenska priset är ännu inte fastställt. Gissningsvis hamnar priset någonstans mellan 4.500 - 5.000 kr. Stationen annonseras i USA för ca $400.
Engelsk broschyr
(4Mb pdf)
Full 5W FM 50/144/430MHz plus 50MHZ AM
GPS/APRS support built in with optional GPS Aerial unit
Hands-free operation with optional BH-1 and BH-2 modules
Wide band receiver coverage from 504KHz to 999.999Mhz (Cellular blocked for USA models)
Dual receive options for V+V; V+U or U +U with individual volume controls
Seperate AM/FM stereo broadcast receiver circuit with seperate 3.5mm jack for stereo headphones.
Waterproof fully submersible meets IPX7 (1Metre for 30 minutes)
Small size 2.36" x 3.74" x 0.92"
7.4v 1100mAh Lithium Ion battery